New 2020.1- How Access Management Works
Autor:
Edgar D.
Visitado 816, Seguidores 1, Compartilhado 0
I upgraded a couple of days ago to 2020.1 and then to 2020.1.5. Prior to doing this I was on version 2019.3.17.
Prior to updating I checked the PHP version used on my hosting providers server and it is PHP version: 7.2.25. The reason for this action is Incomedia stated that the minimum server requirement must be PHP 7.1.
Having upgraded I now have an Access Management issue.
I have 3 groups as you can see from the image.
Administrators
Group1
Automatic Registration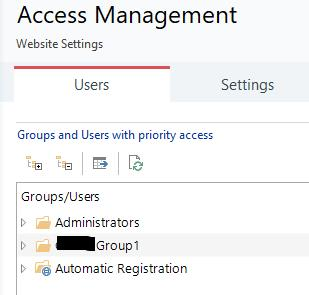 Users would log in using the Automatic Registration. I normally click the button which (Updates the Users who registered online). They appear under the Automatic Registration. I would then drag and drop the user into Group one. The user would appear in Group1 and would no longer be seen under Automatic Registration. All this worked fine under version 2019.3.17.
After the upgrade, I move a user from Automatic Registration to Group1 and the user appears in Group1 with a little box (containing an arrow on the left-hand side). The User also still remains in the Automatic Registration area.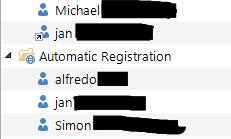 If I try to move the same user again from the Automatic Registration area to Group1 the following appears.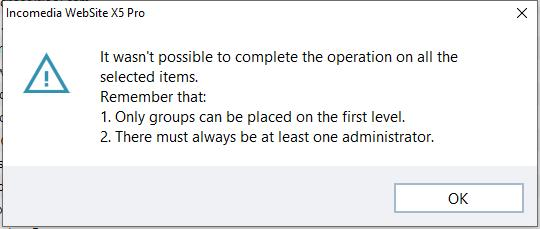 I would really appreciate if anyone can throw any light on this matter. Incomedia is this a possible bug with version 2020.1.
Kind regards,
Edgar