Redundant agree to terms and conditions tick box
Автор:
Esahc ..
Просмотрено 246, Подписчики 1, Размещенный 0
On the last page of an order there are 2 "I agree to the Terms and Conditions" tick boxes. In mobile view the order summary is seen first and it is likely the user will tick agreement before scrolling down the page to review order and click Buy now.
If the users follows these steps it will be necessary to either tick the box again and then click Buy now or go back up the top of the screen to click Buy now.
Preferably the tick box and Buy now button should not be in the summary at all, but if it must be there, clicking either tick box should tick BOTH tick boxes and/or allow both "Buy now" buttons to proceed.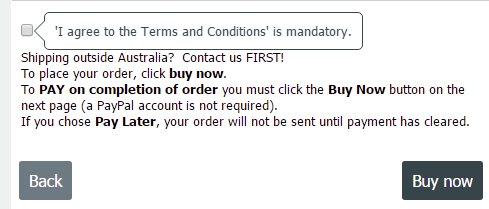 Only one agreement tick box needs to be pressed to proceed, but only if the Buy now button is in the same object box as the tickbox.